Our Instructors
Olympia Taekwondo Instructors
Instruction You Won't Find Elsewhere
Olympia Taekwondo is proud to have top quality instructors in the Canton and Commerce Township areas of Michigan. Our instructors have proven themselves both on the mat and off the mat to be top-quality leaders.
We pride our martial arts instructors to teach values of martial arts such as courtesy, integrity, perseverance, self-control, and indomitable spirit. We also encourage each student to not only succeed in the studio but to succeed at home and in school. We believe that to be respectful at home and outside of the home is a true characteristic of an Olympia Taekwondo student.
We encourage you to scroll and read through our list of incredible instructors. If you have any questions, please reach out to us.
"Amazing people! Very well organized!!! Exceptionally impressed."
MARTIAL ARTS 2 WEEKS FREE
Grandmaster Covert
8th Dan – Master
Over his 40 year career, Grandmaster Covert has won many tournaments both nationally and internationally, along with countless titles & certifications. He has promoted hundreds of black belts and 15 Masters to their prestigious rank, while never overlooking his new white belt students. He has trained three generations of families who continue to bring their families to what they have labeled
"The Best Taekwondo Instructor".
Senior Master Alexander
6th Dan – Master
Senior Master Alexander Covert is the owner and head instructor of the Commerce Township, Michigan location. He has been training in Martial Arts for over 25 years, he currently holds the rank of 6th Degree Blackbelt. Sr. Master Alexander Covert has competed all over the world in Taekwondo and is a Multi-National Champion/Medalist.  He is also a former AAU National Team Member. He is the Head Coach of Olympia's prestigious competition team "Covert Elite" where he strives to pass on his passion and give his athletes all the opportunities he had and did not have in the sport of Taekwondo. Sr. Master Alexander Covert truly loves Taekwondo it is his passion. He is not only the presence of Michigan Taekwondo but also the FUTURE.
Master Laura
4th Dan – Master
Master Laura has been training for approximately 28 years, give or take a few years to take time off to have her two terrific sons 6th Dan Senior Master Alexander (29), and 3 rd Dan Austin (26). She has been married to Grandmaster Covert for 30 years. Her duties include the day-to-day operation of running Olympia Chung Do Kwan, assisting Grandmaster Covert, and teaching her (GREAT! TERRIFIC! AWESOME!), Mini-Ranger program.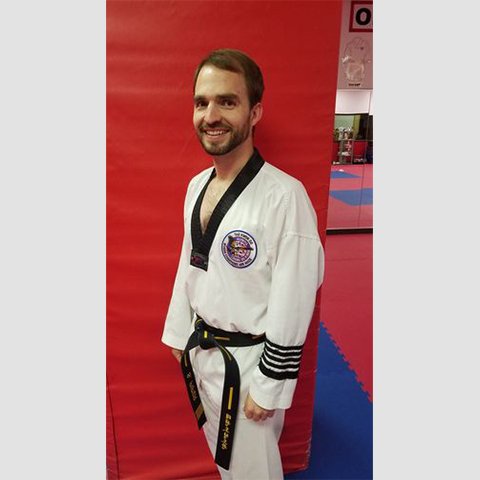 Master Piper
4th Dan – Master
Scott Piper is a 4th-degree black belt and currently is an instructor for the advanced junior class at Olympia in Canton. Scott started his training at the age of 13 at a Tae Kwon Do school in Canton and has since trained under six different instructors over a period of over 25 years as he has moved around the Great Lakes region before arriving at Olympia in 2014. By day, Scott is an electrical engineer for an automotive manufacturer and he is also a father of three children all of which have trained at Olympia. Scott very much enjoys the many aspects of Tae Kwon Do and is an enthusiastic instructor.
William Cothron
3rd Dan 
Will has been training for nine years and has been teaching for three years. He enjoys teaching at Olympia and tries to get his students to learn something new every time they come into class. Currently, he teaches on Wednesdays and works with kids under the age of 14. His main goal when it comes to teaching is that every student leaves his class with a smile and a great martial arts experience. Also, he hopes to give back the experience to his students that he was given during his Tae Kwon Do classes; and, hopes to spread his love for taekwondo to all his students.  Will is a senior member of the Covert Elite Poomsae team where he has won both state and national titles.  He currently is working on his numchucks and bo staff skills and took a gold medal in the 2020 U. S. Chung Do Kwan Association Tournament.
Michael DeMesa
3rd Dan
Michael has been training at Olympia Tae Kwon Do for 11 years. He began his training at the age of 6. He currently is a certified Black Belt Instructor and teaches a mixed junior class. His specialties are Poomsae/Forms and Weapons. Michael is a senior member of the Covert Elite Competition Team in which he competes both nationally and internationally. He is the 2020 AAU Taekwondo National Weapons/Forms Gold Medal Winner.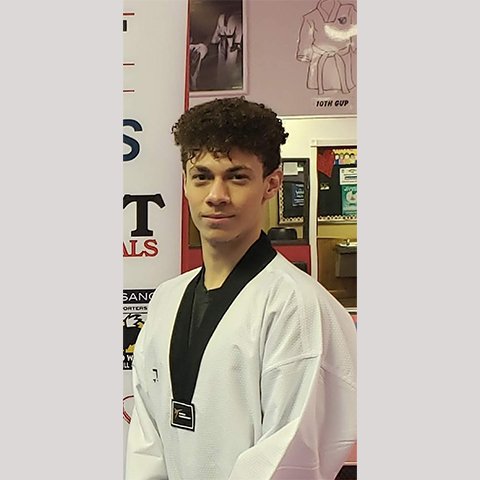 David Clark
3rd Dan
David has been training in the art of tae kwon do for 12 years. He is currently the assistant coach of the grassroots competition team and a senior member of the Covert Elite World Class Competition Team. David has competed in numerous State, National, U. S Open, and AAU Taekwondo Olympic Trials. He currently is assisting Senior Master Alexander with his Lifetime Program and classes at the Commerce location.
Wanting More Information?
Business Hours
Monday: 3:00 pm - 9:30 pm
Tuesday: 3:00 pm - 9:30 pm
Wednesday: 3:00 pm - 9:30 pm
Thursday: 3:00 pm - 9:30 pm
Friday: 3:00 pm - 9:30 pm
Saturday: 8:00 am - 12:00 pm
Sunday: Closed