Covert Elite Competition Team
Sparring & Forms Training
Covert Elite Competition Team
Sparring & Forms Training
Covert Elite is the Hardest working Taekwondo Team in the State, filled with Taekwondo Athletes who have Big Dreams with plans on making them a reality
Head Coach – Alexander Covert Coaching Philosophy – To borrow a quote from one of coaching's greats, Herb Brooks – 1980 US Olympic Hockey Coach, "Great moments are born from great opportunities."
MARTIAL ARTS 2 WEEKS FREE
He leads his team and coaches with the goal of giving athletes that put their trust in him every opportunity he had through this sport and to the best of his ability create new opportunities for them that he did not have. Examples of adaptive measures he has implemented include providing cross-training and a flexibility coach for his athletes to prevent injury and build overall strength/endurance, ensuring they remain healthy both mentally (through a sports psychologist) and nutritionally (via a nutritionist), and offering funding/sponsorships to offset the cost of realizing their dreams. It takes a Village.
He focuses on helping each individual athlete become the best version of themselves, on and off the mat, in pursuit of their goals and dreams. He strives to pass on the passion that he has for this sport to every one of them, and is a strong believer of the formula Passion + Patience + Perseverance = Performance. His goal and style in leading the members of his team is to be the mentor and role model he needed while he was coming up through the sport. The sport of taekwondo is ever-changing, as are the needs of the athletes. He believes as he gets older the basis of his coaching philosophy will not change, but he adapts as needed.  Through his extensive experience as a coach, he knows that he needs to be constantly studying the game, open-minded, and willing to embrace change.  That means constantly learning and adapting and implementing new techniques while also sticking with tried and true methods that have proven successful throughout the years.
He is innovative and creative and he will continue to develop his coaching style through future experience and circumstances.
He coaches with a tough-love mentality, he often tells my athletes that if they aren't going to do it right, and then don't do it at all.  But if they want to learn to do it right, He is here to help guide them, advise them and provide the opportunities for them to get it right – all of which leads to them having their great moments.
sparring classes in Canton. Olympia sparring classes in Commerce Township.
Sponsor letter –
Please allow this letter to serve as a personal introduction to myself and my competition team.  My name is Alexander Covert; I am a 6th-degree black belt and the head coach of the Olympia Taekwondo Covert Elite Competition Team.  I have been training since the age of three, and have been Olympia's head coach for the past eight years.
I would like to offer you the opportunity to become a valuable sponsor of the Covert Elite Tae Kwon Do Completion Team.  Our athletes consisting of males and females ranging from 7-65 years in age, and travels throughout the World competing in numerous tae kwon do tournaments.  All our members have BIG goals and dream to one day travel all over the world and someday compete in the Olympic Games for Tae Kwon Do and represent the United States.
Your sponsorship would help our athletes with new equipment, traveling expenses, tournament fees, coach's fees, and vital seminars that they need to achieve their goals.
Olympia's Competition team has numerous State and National Champions; with your sponsorship, we would be able to continue to create champions and able to have more opportunities throughout the sport. Several of our athletes have qualified to go try out for the Senior USA Team, Junior Worlds Team, and Youth Olympic Games team along with AAU National Team Trials.
In return for your sponsorship, we would advertise your company.  Allow you to place brochures in our lobby. Wear your company logo on our club t-shirt, place your business name on our "Thank You Sponsors" banner that we take to all our workouts, seminar, and tournaments.  This banner is displayed in the lobby of Olympia Taekwondo when we are not traveling. Provide a group certificate and team photo for you to display as a proud sponsor of our team.  We will also promote your business through our social media such as Facebook and Instagram, constantly thanking you as a sponsor. Follow us on Facebook – Olympia Tae Kwon Do & Wellness Center & Instagram -olympia_tkd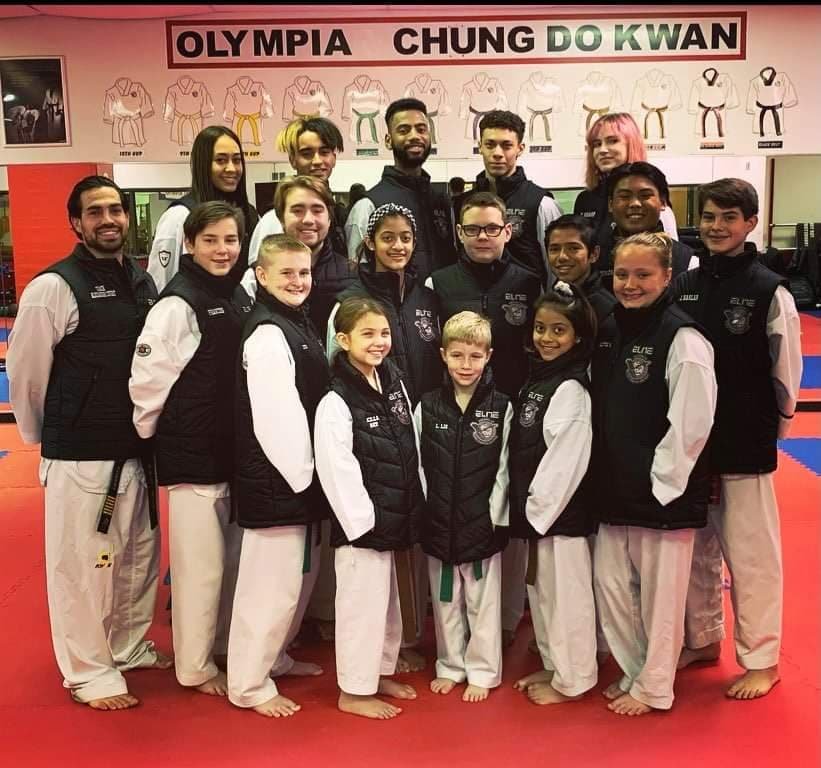 Sponsorship Levels –
Participation Level Sponsorship – Any donation towards this year's competition team will result in a photo and Certificate from Olympia's Competition Team
Bronze Medal Level Sponsorship – $200 donation; Photo and Certificate, Company Logo on sponsor T-Shirt
Silver Medal Level Sponsorship – $500 donation; Photo & Certificate, Company Logo on T-shirt, Logo on Banner.
Gold Medal – $1000 Sponsorship will result in; Photo & Certificate, Company Logo on t-shirt, Logo on Banner, Team outing at your business.
Grand Champion Sponsorship – $2000 Sponsorship will result in Photo & Certificate, Company Logo on t-shirt, Logo on Banner, Team outing at your business. Your logo will be bigger than all other sponsors; your Logo will go on the team VAN. We can also wear a shirt or other clothing option for example a hat with only your logo on it.
World Champion Sponsorship – Anything more than $2,000 – Would result in all the above and we donate a mat on our gym floor to your business by imprinting your logo into the mat
I believe that you will be proud of being a valuable sponsor of the Covert Elite Taekwondo Competition Team.  Thank you for your consideration.
Sincerely,
Covert Elite Tae Kwon Do Competition Team
Grandmaster S. Covert
8th Degree Black Belt-
Poomsae Coach
Alexander S. Covert
6th Degree Black Belt
Head Coach
The Benefits of Martial Arts at Olympia
Discipline
Focused on making sure students are disciplined with their goals and aspirations. 
Confidence
We can help you or your child build confidence and take on the world!
Leadership
With martial arts comes great leadership opportunities. You'll love this benefit!
Self-Control
One of the hardest things we as humans struggle with is self-control. We can help.
Respect
You will see an improvement in what it means to have respect, both for yourself and others.
Improved Grades
With an applicated system of learning, you will see better grades on their report card.
"Best people ever. Master Alex is amazing with kids I'm so happy I found this place."
Wanting More Information?
Business Hours
Monday: 3:00 pm - 9:30 pm
Tuesday: 3:00 pm - 9:30 pm
Wednesday: 3:00 pm - 9:30 pm
Thursday: 3:00 pm - 9:30 pm
Friday: 3:00 pm - 9:30 pm
Saturday: 8:00 am - 12:00 pm
Sunday: Closed